Over the the course of the last year we've explored quite a bit of the magical history of America, from colonial times up to the coming of Theosophy and the dawn of the golden age of American occultism.  Before we go deeper into that golden age in all its weirdness and wonder, it's time to glance back and take a look at some of the other things that made it what it was. Occultism never exists in a vacuum. It always draws on other themes and currents in the culture that surrounds it, and it always influences the culture around it, sometimes obviously, sometimes less so.
One of the currents that played an especially important role in the magical history of America also has useful lessons to teach in other contexts, and though it's largely forgotten these days, it still has a lot to offer. Yes, it's time to talk about secret societies.
It's one of the weirder features of today's culture that people who think about secret societies rarely know enough history to get their facts straight, while those who know something about history generally ignore the role that secret societies played therein.  So let's start with that mainstay of rhetoric around secret societies:  a revolution planned and implemented behind lodge doors. No, we're not talking about the French or Russian Revolutions—we're talking about the American Revolution.  Think of the Boston Tea Party, the famous ride of Paul Revere, the battle of Bunker Hill.  Do those make you think of figures in dimly lit rooms, plotting in secret?  It should.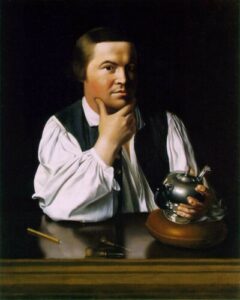 The American Revolution was planned and organized by one secret society, and its opening moves on the rebel side were carried out by another. The first of those was the Committees of Correspondence, a secret network of influential colonial citizens who started by organizing resistance to British laws that penalized the colonies unfairly, and from there moved step by step into planning a revolution.  The second was the Sons of Liberty, which started out as a protest group and from there moved step by step into becoming a covert army.  When Paul Revere saddled up and rode through the night, calling out "The redcoats are coming!  The redcoats are coming!"  he was alerting his fellow Sons of Liberty that the balloon was going up.
Linked with both these societies, of course, was a third organization, the Freemasons. Masonry wasn't directly involved in the Revolution—plausible deniability was already a thing in 1776—but if you look in the minutes of a certain Boston lodge for the meeting that was scheduled for the night of the Boston Tea Party, you'll find a note saying that the lodge was adjourned early because of, ahem, "pressing business elsewhere."  Many of the members of the Committees of Correspondence and the Sons of Liberty were also Freemasons. Were all Freemasons in favor of American independence?  Not a chance. There were British regimental lodges in the colonies, and there were other lodges whose members were mostly Tories. That's why colonial Masons interested in revolutionary activities founded other organizations.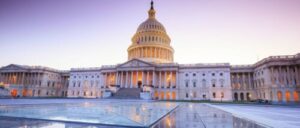 And when the war was over, did the Committees of Correspondence and the Sons of Liberty become secret organizations controlling the new republic?  No, not that, either. The Committees of Correspondence had already morphed into the Continental Congress, which became the Congress we have today.  The Sons of Liberty morphed, too; we call it the United States Army today.  In other words, your congresscritters and the men and women on duty at your nearest Army base all belong to organizations that started out life as secret societies. Meanwhile Freemasons kept on being Freemasons, which meant pursuing the odd but traditional mix of charity, networking, and personal improvement that is Masonry's stock in trade.
Three crucial points can be drawn from this review of history.  The first is that people in secret societies don't run the world; they belong to political secret societies because they want to have more influence than they do. More generally, secret societies are a tactic of choice when for one reason or another, you don't have (or choose) the option of taking action in a more direct way.  When political secret societies have done their work well and the situation turns in their favor, they ditch the secrecy and become political parties, armies, or governments.
The second crucial point is that the fact that two people both belong to a secret society doesn't mean they're on the same side. More generally, it's a mistake to think, as the conspiratorially minded are too prone to think, that all secret societies are on the same side, or that they're all sock puppets of some uber-society that rules them all.  Not so. Arkon Daraul's famous quote—"the history of the world is the history of the warfare between secret societies"—is an overstatement, but it catches a detail that too many other people miss: secret societies very often go after each other with whatever weapons they have to hand.
When the original Bavarian Illuminati was trying to drum up recruits in Germany in the late 1770s and early 1780s, for example, their main opposition came from the Order of the Golden and Rosy Cross, the most influential conservative secret society of the time.  When the Ku Klux Klan was making its bid for power in 1920s America, one of the things that tripped them up was pushback from anti-Klan secret societies—the Knights of the Flaming Circle, the All-American Association, the gloriously named Order of Anti-Poke-Noses, and more.  In Europe after the Napoleonic Wars, dozens of secret societies pushed their agendas, made temporary alliances with other societies and then stabbed their erstwhile allies in the back when conditions changed. We haven't had anything quite that colorful in the United States, but now and then it's come close.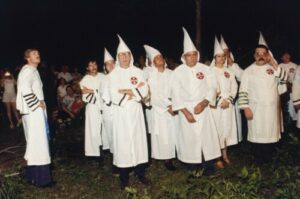 The third crucial point, and the one that matters most for current purposes, is that not all secret societies are interested in politics. Some are into it up to their eyeballs, no question, but there are many others that are serenely uninterested in politics, and go out of their way to exclude political discussion from their meetings, because they have other purposes in mind. We can explore one such set of purposes with the aid of a man named Thomas Wildey, who emigrated from England to the United States in 1819.  In England he had been a member of an organization called the Order of Odd Fellows—and thereby hangs a tale.
Back in the Middle Ages, every skilled profession had its own guild, which provided social services to its members.  The guilds had three levels of membership. Apprentices learned the craft from a master; fellows or journeymen—terms differed—had finished their apprenticeship and worked as employees of a master until they could create a masterpiece (yes, that's where the word comes from) and set up as a master themselves. Later on, as the system became corrupt and dysfunctional, the masters stopped letting fellows qualify as masters, and became employers hiring fellows for as little as they could get away with paying. The fellows then organized their own quasi-guilds.  Some of these quasi-guilds accepted fellows from any trade—that is to say, odd fellows. When the guild system finally fell apart, these odd fellows' societies survived, because they provided a social safety net for members.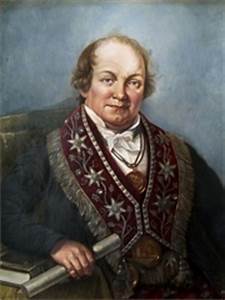 So Wildey decided to found a similar organization here in the United States. The Independent Order of Odd Fellows, the organization he launched, was for many years the largest secret society in North America:  bigger than the Freemasons, bigger than anybody.  Its modus operandi was simple. When you belonged to an Odd Fellows lodge you contributed 25 cents (in today's money, a $20 bill) every week to the lodge benevolent fund. In exchange, if you became too sick to work, the lodge would provide you with sick pay—employers didn't do that back then—and if you died, the lodge would pay for your funeral and make sure your widow and children were taken care of. That wasn't just rhetoric, either.  When my great-grandfather John W. Greer, an Aberdeen, WA police officer and an Odd Fellow, was shot and killed in the line of duty in 1921, his lodge saw to it that his widow was taken care of for the rest of her life and their thirteen children all got a good education and all their needs met until they turned eighteen.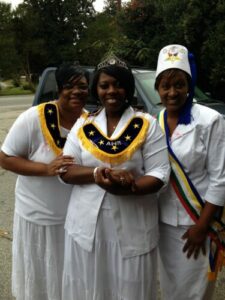 At a time when a week off work due to sickness could land a family on the street, this was unsurprisingly popular, and within a short time hundreds of other secret societies copied the scheme. Not all of them, by the way, drew members from among the light-skinned. African-Americans were even more active in founding lodges than their white neighbors—of the 3500 secret societies (not individual lodges, whole societies, some with tens of thousands of lodges) active in the United States in 1900, 1500 were African-American organizations. Immigrants were also at the cutting edge of the fraternal benefit movement, which is why you can still find organizations such as the Sons of Norway and the B'nai B'rith in ethnic neighborhoods all over the United States. Most of them aren't secret societies any more, but they started out that way.
Sick pay and the like weren't the only things benefit lodges offered. Many of them also provided health care:  the lodge hired a doctor and a couple of nurses, who got a monthly salary, and would be hired again for the next year if the service they provided was up to spec.  In exchange, the doctor and the nurses provided health care to all the members of the lodge. It was called "lodge trade" and it was the bread and butter of many thousands of physicians, especially young doctors who needed the chance to build up a clientele.  (It doesn't exist any more because the American Medical Association put decades of hard work into abolishing it—lodge trade gave patients rather than doctors control over health care costs and quality, which was and is utterly unacceptable to the medical profession. Not coincidentally, it was right around the time that lodge trade was finally destroyed that health care costs started heading for the stratosphere.)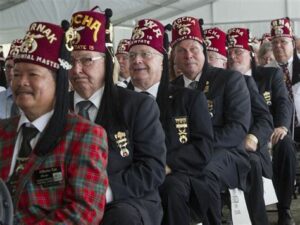 Now of course not all lodges  were into such serious matters. Another set, the Elks, the Moose, the Eagles, and many more, are drinking lodges; their lodge buildings have bars inside. The Masons, the Odd Fellows, and many other lodges banned alcohol inside their lodge buildings, so brothers would attend the lodge meeting and then head elsewhere for liquid refreshment. In at least some states it was standard for Masons to join the Elks, Odd Fellows to join the Eagles, and members of other lodges to join the Moose. Because there's an odd sort of suction that attracts lodges to charitable causes, or vice versa, all these ended up with their own well-funded philanthropic activities; the same thing happened with the Shriners, which started out as a party-hearty club for the hardest of hard-drinking Masons, and turned into an organization that funds an impressive network of free hospitals and burn clinics for children.
Back when I discussed this sort of thing in talks to various groups, it's about here that someone would stick up a hand and ask why, if secret societies were doing all these laudable things, were they secret?  The answer's twofold. The first is that old-fashioned lodges had constant problems with freeloaders—people who wanted to get lodge benefits without helping to support the lodge fund that paid for them—and also with entryists—people who wanted to weasel their way into lodges to take them over for some other purpose. (The two groups who did that most often back in the day were the socialists and the Ku Klux Klan; go figure.) Passwords, handshakes, and a variety of subtler tricks were part of what screened such people out.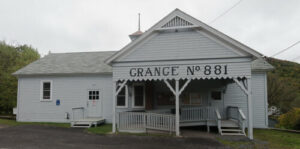 But there's more to secrecy than that. One potent psychological effect of secrecy is that it makes it easy to think thoughts that your society doesn't usually think. That's one of the things that gives secret societies their power. The claim that politics is downstream from culture is true as far as it goes, but it doesn't go far enough; both politics and culture are downstream from the realm of myths and symbols—in less gnomic terms, the realm of emotionally charged narratives and images that people use to give form and meaning to the inkblot patterns of experience—and those can be worked with very effectively with the tools of lodge ritual. Behind lodge doors, you can say and think things you wouldn't risk elsewhere; you can formulate those into narratives and images, and use them to reshape your own vision of the world; and once there, by the subtle connections that link all of us together, the myths and images flow out to shape the world
Thus lodges routinely drove change in potent and unexpected ways.  An order for working men called the Knights of Labor, for example, ended up evolving into the first labor union, and providing the pattern that all later labor unions followed.  That's the reason why old-fashioned labor union initiation rituals look like any other lodge ritual. One item in my collection of bootleg lodge rituals is the ritual book of the Women's International Auxiliary of the Amalgamated Association of Street, Electric Railway and Motor Coach Employees of America, originally published in 1939; it's got the standard lodge ceremonies—opening and closing for meetings, initiation for bringing in new members, memorial service for saying goodbye to old members, and installation ceremony for inaugurating each year's elective officers. It was still in use in 1969—the copy I have has some official correspondence from that year tucked into it.
Then there was the Grange. Its official name is the Patrons of Husbandry; it was founded in 1867 as a lodge for farmers, and (unusually for the time) accepted male and female members on an equal basis. It spread through the farm belt, and then things got strange. If you think there's anything new in a handful of huge corporations leveraging their control over new technology to amass gargantuan fortunes and play political games, I have news for you; the railroad barons of the late 19th century were just as corrupt, egotistical, and maniacally greedy as certain internet moguls we all could name.  Among the victims of their extortionate practices were farmers, who were charged wildly inflated prices to ship their crops by rail to markets.  The railroad barons profited, politicians took their bribes and did nothing, and farm families starved—again, it's a familiar refrain nowadays for anyone who's been paying attention.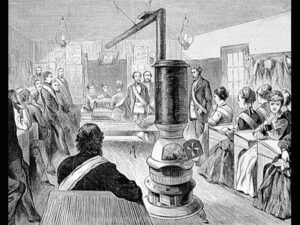 The Grange decided to fight back.  They didn't waste their time going to Congress—in those days, Congress was gaudily corrupt and subservient to big-money interests, which has admittedly been its normal condition for most of this nation's history.  They targeted state legislatures and courts instead, pushing pro-farmer candidates in election after election, filing lawsuit after lawsuit, and bargaining with state politicians in the mutual backscratching that makes for effective politics. It took most of two decades and the victories were won piecemeal, but the railroad barons were forced to back down; competition drove down freight costs, and farm country entered a boom that didn't finally end until the runup to the Great Depression. (No, you won't find this out in most school textbooks about the late 19th century.  I'll let you guess why there's a lack of interest in teaching people that they can solve their own problems by grassroots organization, rather than waiting for the government and the comfortable classes to set up one more well-paid bureaucracy with the ostensible purpose of helping them.)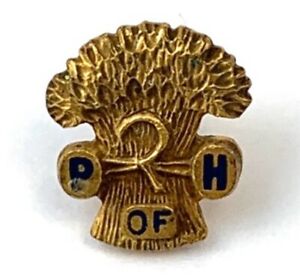 Granges did a lot more than that. They founded cooperative businesses, organized barn raisings and sewing bees, lent their Grange halls to members for wedding receptions and other events, and during the Great Depression, had weekly potlucks so that everyone got at least one really good meal a week. They also kept a beady eye on the shenanigans of state governments.  To this day every Grange is supposed to have a legislative committee, whose chairperson reports at each meeting to keep the members posted about what the legislature is up to this time.  It's an effective system, and played a large role in keeping conditions in farm country less ghastly than they could have been—and again, I'll let you guess why the schools, the media, and other vendors of prechewed pseudohistory never, ever mentioned any of this to you.
And of course there was more than this, much more—and this is where we begin to circle back to the magical history of America.
Secret societies have a galaxy of potential uses, and one of them is that they're very handy if you want to teach occultism, especially if some of the people who want to learn it don't necessarily want their involvement to become public knowledge.  That's why in its earliest days, when Helena Blavatsky and Emma Hardinge Britten were circling each other like angry cats, the Theosophical Society used secret handshakes, opening and closing rituals, and the rest of it, and why local Theosophical organizations are still called lodges. It was in the wake of Theosophy's rapid spread, however, that occult lodges popped up like mushrooms all over the United States and elsewhere, and played a massive role in the golden age of American occultism.
A few of those still exist today.  Most do not, and even in those that still exist, very few know how to use the toolkit that was so effectively deployed a century and a half ago. There's a reason for that, and it bears directly on the broader theme of this blog.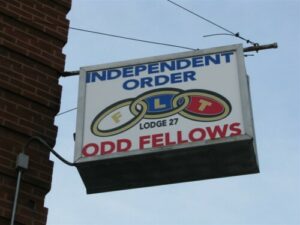 Back in the 1990s, when I was active in a variety of old-fashioned secret societies in Seattle, an African writer named Malidoma Somé was popular in New Age circles; one thing he wrote that got a lot of air time was his quite sensible claim that people need initiation rituals in their lives. You constantly heard people talking about how sad it was that American society no longer had any initiation rituals. Care to guess what happened when I and other people who were members of lodges pointed out that there were plenty of traditional American initiation rituals waiting for them, if they simply did what their great-grandparents did and joined a lodge?
You got it.  They gave us a blank thousand-mile stare, and went on talking about how sad it is that there aren't any traditional American rituals. I've noted before that from the perspective of occultism, the normal state of human consciousness is a shallow doze haunted by vague dreams.  Nowadays, most people in that condition don't even dream their own dreams—they dream the dreams that were put in their heads by the corporate mass media.
Secret societies don't have a place in those dreams. At most they appear as something for the faux-sophisticated to laugh at, as Fred Flintstone's Order of Water Buffaloes or stereotypes lifted current debates between conspiracy theorists and their opponents. Paul Revere isn't included, nor are Grangers listening intently to the news from the state capital, nor is my grandfather, on his way to school in the morning because the Odd Fellows made sure he didn't have to go to work to support the family at age thirteen.  Nor, of course, are the occult lodges we'll be talking about in posts to come, which put the same toolkit to work to pass on the subtle and powerful arts of practical occultism to three generations of earnest seekers, and in some cases are still at it today.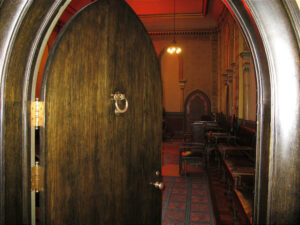 It's as though all this is still hidden away behind a lodge door, and you have to do the classic thing, knock on the door, and murmur the password once the strangely robed person inside opens it just a little.  The password?  "I know you're in there."  What else is in there with them—well, we'll get to that, or some of that, in future posts.