This week's Ecosophian offering is the monthly (well, more or less!) open post to field questions and encourage discussion among my readers. All the standard rules apply — no profanity, no sales pitches, no trolling, no rudeness, no long screeds proclaiming the infallible truth of fill in the blank — but since there's no topic, nothing is off topic.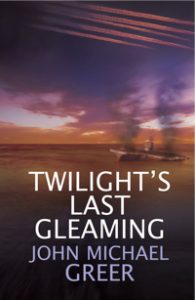 I have a couple of book-related announcements to make before we proceed. First, one of my backlist titles has been released in a new, updated edition. Twilight's Last Gleaming is a high-concept military-political thriller that pits a declining United States against a rising China in a cascading series of crises that brings the world to the brink of nuclear war and plunges the US into a crisis it may not survive. It can be ordered from the publisher here; given recent headlines, your favorite (or least favorite) politician probably needs a copy…
Second, for fans of my para-Lovecraftian fiction,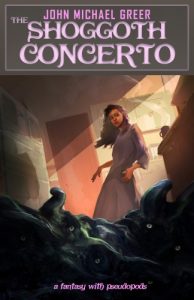 I'm pleased to announce another novel available for preorder. The Shoggoth Concerto isn't part of the story arc of The Weird of Hali, but it's set in the same fictive universe — the Haliverse, as some of my readers have taken to calling it.  The editor for the huge corporate publisher who turned it down (and did me the uncommon courtesy of a personal note scrawled on the generic rejection slip) called it "too quiet" and "too oddball," and with that assessment I have no complaint; it is indeed a quiet and very odd fantasy novel about classical music, the roots of creativity, memory, love, death…and, of course, shoggoths. You can preorder your copy here, or if you're looking for the ebook edition, here.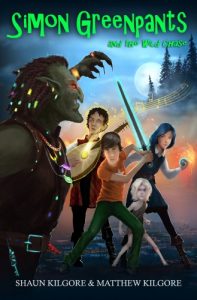 Finally, Shaun Kilgore — whom many of you know as the publisher of all but one of my novels, of the After Oil anthologies, and of the collected Archdruid Report posts — and his son Matthew have just published a children's fantasy, Simon Greenpants and the Wild Chase.  It's a good lively story, the sort of thing I adored when I was ten or so, and if there's a child in your life who's into imaginative fiction, this will be right up their alley. You can order a copy here.
With that said, have at it!