This week's Ecosophian offering is the monthly (well, more or less!) open post to field questions and encourage discussion among my readers. All the standard rules apply — no profanity, no sales pitches, no trolling, no rudeness, no long screeds proclaiming the infallible truth of fill in the blank — but since there's no topic, nothing is off topic.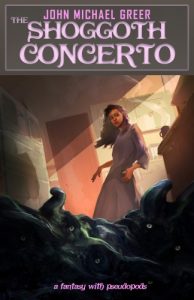 For those who are interested in my paral-Lovecraftian fantasies, I'm also pleased to announce that The Shoggoth Concerto is now available for sale — you can get print or e-book copies here. I realized, in the course of a discussion online a little while back, that The Shoggoth Concerto is basically the anti-Fountainhead. Those of my readers who've slogged their way through the least turgid of Ayn Rand's novels know that The Fountainhead runs on the well-worn conflict between the individual genius who wants to do something new and shocking, on the one hand, and the dead weight of popular taste and tradition on the other. What do you do, though, when doing something new and shocking has become the  new conformity that's imposed on every rising talent, and your inspiration comes not from whatever conventially new and shocking idea all your classmates are doing by rote, but from the traditional forms of Baroque music? That's Brecken Kendall's dilemma in The Shoggoth Concerto. Of course Howard Roark also didn't have to deal with shoggoths…
With that said, have at it!