Yes, I'm back from last week's brief hiatus. What happened, to summarize a very busy week too briefly, is that I took the train to New Jersey to receive six initiations in two different esoteric traditions, with somewhat limited internet access during that trip. Now I have a lot of new material to study , but that's nothing new and won't get in the way of the usual conversations here. So…
This week's Ecosophian offering is the monthly (well, more or less!) open post to field questions and encourage discussion among my readers. All the standard rules apply — no profanity, no sales pitches, no trolling, no rudeness, no paid propagandizing, no long screeds proclaiming the infallible truth of fill in the blank — but since there's no topic, nothing is off topic. (Well, with one exception: there's a dedicated (more or less) open post on my Dreamwidth journal on the current virus panic and related issues, so anything Covid-themed should go there instead.)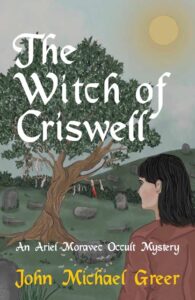 Before we proceed, I'm delighted to announce that the first volume of a new fiction project of mine will be out in April and is now available for preorder. It's an occult detective series in which all the magic is real — as in, the kind that people actually practice and experience here and now. The title is The Witch of Criswell.  Here's the blurb:
"Eighteen-year-old Ariel Moravec doesn't expect much from a summer with the grandfather she hasn't met in years: a respite from her dysfunctional family, perhaps, and a brief delay before she has to face an uncertain future.
"A few days after her arrival, however, she learns that her grandfather is an occult investigator tasked with hunting down the perils of the Unseen — and he offers Ariel the chance to assist him on a case.
"Strange forces are stirring in the little farm town of Criswell, where a famous witch lived in colonial times. Has old Hepzibah Rewell's curse awakened, or is the evil magic the work of someone living?
"Caught in a tightening net of bitter local rivalries and strange happenings, Ariel has to find out…or her own life may be at risk."
Interested?  Readers in the US can preorder copies here; elsewhere, here's the place to go.
With that said, have at it!