As announced earlier, this blog will host an open space once a month (well, more or less!) to field questions and encourage discussion among my readers, and this is the week. All the standard rules apply — no profanity, no sales pitches, no trolling, no rudeness, no long screeds proclaiming the infallible truth of fill in the blank — but since there's no topic, nothing is off topic.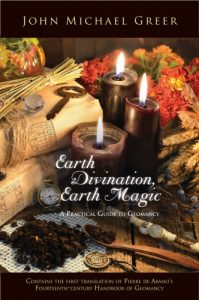 Before we go on, I'm delighted to announce that one of my few backlist titles that has been out of print for a while is now available for preorder. Earth Divination, Earth Magic was my first book on geomantic divination and magic; it's specifically oriented to the Golden Dawn end of occultism, where my later book The Art and Practice of Geomancy is oriented toward traditional Renaissance magical practice; and it contains my translation of Pietro d'Abano's Modo Judicandi Quaestiones (A Method for Judging Questions), the short geomantic treatise that turned my understanding of geomancy on its head and helped push the current geomantic revival into new (or, rather, old but forgotten) territory.
Thanks to the enthusiastic folks at Aeon Books, it's on its way to print in an attractive new edition. Copies can be preordered here.
With that said, have at it!