For some time now I've been thinking about one of the core patterns underlying recent history here in the United States.  It's a pattern that can be traced from colonial times onward, and it offers unexpected insights into the mess the United States is in just now; the one difficulty with it is that nearly everyone, across the entire convoluted landscape of American cultural and political thought, seems more interested in acting out that pattern than in understanding it.
Thus a roundabout way toward understanding will be useful. We can begin, therefore, with two yellowing paperbound volumes sitting on my desk at this moment.
One of them turned up at a local used book store weekend before last: a well-used copy of The First New England Catalogue. It was edited by Marie Snow Hall and published in 1973, and it's more or less a regional clone of the much more famous Whole Earth Catalog: that is to say, a legacy of the era when the cultural avant-garde drew inspiration from the traditional folk cultures of the United States. Those days are long gone now, of course.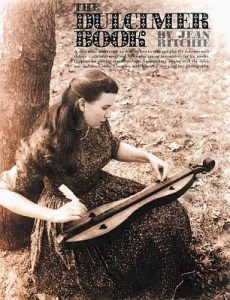 The other is also a legacy of that same era, though it appeared a little earlier, and I've owned it for many more years. It's an equally well-used copy of Jean Ritchie's The Dulcimer Book, published in 1963. Once upon a time you'd find a copy of this particular book, and the odd and lovely musical instrument it introduced to US alternative culture, in just about any well-equipped hippie pad in North America; once upon a time, for that matter, you could count on catching the distinctive drone-and-melody sound of a mountain dulcimer played in the traditional style wherever folk music was played. Those days are long gone now, too, and thereby hangs a tale.
Mention the word "dulcimer" nowadays, and dollars will get you doughnuts most of your listeners will think you're talking about the hammered dulcimer, an ancestor of the piano with a long history in various corners of Eurasia. The mountain dulcimer, Appalachian dulcimer, or lap dulcimer—all three terms have been used for it—is not a hammered dulcimer. It's plucked or strummed, not played with hammers; it's got four strings, asymmetrically arranged; it's got a fretboard like a guitar, but with oddly spaced frets—music geeks will recognize it as a diatonic rather than a chromatic fretboard. It's made in various shapes and played in various styles, and it came into being somewhere in the southern end of Appalachia, where half a dozen old European folk instruments may have helped inspire the anonymous craftspeople who originated it a couple of centuries ago.
It's easy to make a dulcimer that sounds good, even if you're dirt poor and your access to raw materials is limited to what you can get in a little village up in the mountains, and it's easy to learn how to play it well enough to provide a little additional beauty to the folk songs and Christian hymns that make up most of traditional Appalachian musical culture.  That's why the mountain dulcimer became a common instrument across the Appalachians, and that, in turn, is why Jean Ritchie learned it as she grew up in the little town of Viper, Kentucky. Later, she left home to get trained in social work, which is how she ended up in New York City, where local beatniks (that's how the word "hipsters" was spelled in those days) were entranced by her traditional songs and dulcimer playing. This is what it sounded like.
Folk music, you see, was the music of the avant-garde back then—and no, we're not talking about the folk music of foreign cultures conveniently distant from the gritty realities of American life.  If you were young and hip in the 1950s, you listened to American folk music. That wasn't the only thing the avant-garde liked to hear, to be sure; jazz was a major cultural institution on the cutting edge, the more recherché the better—you can still get a reminiscent smile to slip onto the face of people who were there at the time by mentioning Thelonious Monk, Dave Brubeck, et al.—but American folk music was the common currency of the alternative scene.
Think about that for a moment: the cultural avant-garde, politically liberal, socially conscious, idealistic…listening enthusiastically to the music of the deplorables.
That's the way things were when Jean Ritchie found her dulcimer playing attracting the rapt attention of young hipsters in New York City. Of course the inevitable happened; craftspeople with a taste for woodworking started making dulcimers, starry-eyed young people started playing them, and for some decades thereafter, the mountain dulcimer was a minor phenomenon on the leftward end of society. You could get instructional books from all the folk music publishers, you could buy dulcimers in any well-equipped folk music store, and the drone-and-melody version of "Boil Them Cabbage Down"—traditionally the first tune everyone learns on the dulcimer—could be heard in pretty much every corner of the country.
Of course none of this happened in a vacuum, and this is where the other book on my desk, The First New England Catalogue, comes in. From the 1950s through the early 1980s, folk culture—honest, handmade, endearingly clunky, and regionally specific—was a major resource for the leftward end of alternative culture. Glossy high technology marketed by big corporations? That was the mark of the Establishment, which had about the same connotations in the youth culture of the time that the Mark of the Beast has among rock-ribbed Christian fundamentalists. A great many people, not all of them young by any means, recognized the downsides of dependence on a profit-centered and environmentally destructive corporate industrial system, and folk crafts, folk music, and folk culture generally were among the resources they used to build an alternative.
That, in turn, was what The First New England Catalogue set out to provide. Its model, The Whole Earth Catalog, provided access to an international marketplace of alternative tools, technologies, and culture; The First New England Catalogue and its equivalents elsewhere—there were quite a few of them back in the day—did the same thing with a regional slant, showing readers what they could find within an easy drive or a day trip on a bus. Inevitably the offerings reflected regional cultures and regional tastes.
Thus there are no ads for mountain dulcimers in The First New England Catalogue, though I know for a fact there were plenty of people in Boston and Providence who played them, and a decade later there were makers in those towns and folk music shops all over the region had them in stock.  The local instrument makers who made it into the catalogue back in 1973 made recorders, harpsichords, old-fashioned drums, and electronic synthesizers—yes, you could build one of those on a workbench with spare parts and a soldering iron back then, and in fact most synthesizers were built that way, so it was close enough to a folk instrument to fake it.
I spent a lot of time underfoot in the Pacific Northwest version of that subculture in my teen years.  It overlapped to a great extent with the appropriate-technology scene, which was a major interest of mine; unsurprisingly, a lot of people who recognized that modern industrial society was sawing off the branch on which it sat found plenty to learn from regional folk cultures that didn't depend anything like so much on the products of fossil-fueled industry. It also overlapped to nearly as large an extent with the alternative-spirituality scene, which was another major interest of mine; unsurprisingly, a lot of people who were passionately exploring the far reaches of human potential in those days found plenty to value in learning to do and make things for themselves, rather than sucking at the teat of the industrial economy.
What I didn't realize, as I strummed out "Boil Them Cabbage Down" on my first mountain dulcimer, helped build a wind turbine for a little communal farm in Bellingham, Washington, and immersed myself in the daily meditations and abstruse studies of the quirky spiritual tradition that I follow to this day, was that the overlapping subcultures that appealed so strongly to me were in their last autumnal days before the coming of a bitter winter. I recall with quite some clarity the day in the mid-1980s that I walked into a folk music store in Seattle to find not a single book of mountain dulcimer music, and a question to the store clerk got the snarled response, "We don't carry that stuff here."
That was when the avant-garde dropped American folk music like a hot rock, and "folk music" thereafter meant the music of folk cultures distant enough from the United States to be wrapped in a warm glow of romantic fantasy.  Right around that same time, for that matter, CoEvolution Quarterly—the magazine spinoff of The Whole Earth Catalog—stopped talking about crafts and folk culture, and started babbling instead about the wonders of the newly hatched internet and the gaudy high-tech future we were all going to get once we stopped asking hard questions about the environment and got with the program. Ronald Reagan was in the White House, it was morning in America, and this nation was on its way into its forty-year vacation from reality.
I've written elsewhere at some length about this country's collective failure of nerve in the early 1980s, when most of a generation crumpled in the face of the future's challenges and took the easy way out. (Those who are new to that discussion can find a three-part summary here, here, and here.) That analysis still seems valid to me, but there's another aspect worth discussing here. This is far from the first time, after all, that a rising social movement in American public life started out embracing American folk culture and ended up stuffing it into the first convenient Orwellian memory hole it could find—nor is it the first time that the poor and working-class people of the flyover states have found themselves redefined, by one and the same middle-class cultural sector, from adorable to deplorable.
Go into any library that hasn't done a thorough job of censoring the past via purges of its book collection—a fashionable habit these days among library administrators—and you may just find a copy of the Works Project Administration state writer's project book for your state. Back in the early days of the New Deal, young idealists fired up by Franklin Roosevelt's vision of national unity prowled the backroads of the nation, taking down stories and songs and folk customs. American folk music was a hot cultural property then, too, when Burl Ives was a young man and Woodie Guthrie was still on the right side of the grass. Fast forward twenty years or so, and those same individuals, no longer young and not half so idealistic as they claimed, were cultivating a taste for opera and pretending they'd never so much as seen a guitar.
They weren't the first to follow the same trajectory, not by a long shot. It happened in the Progressive era; it happened among the Transcendentalists, whose vegetarian, pacifist, long-haired hippie communes circa 1820 gave Nathaniel Hawthorne the raw material for his brilliant novel The Blithedale Romance; it happened before the Revolutionary War, when communes sprouted in rural Pennsylvania and John Chapman aka Johnny Appleseed set the stage for a thousand hippie road trips a couple of centuries in advance. After the middle-class turn to folk culture comes the turn away from it: the former radicals sell out, settle down, embrace everything they claimed they'd rejected forever, and become clones of the older generation they once affected to despise.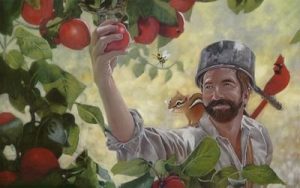 Behind this dynamic is the most enduring of the cultural divides in American society, the divide between the urban enclaves of the nation's periphery—prosperous, irreligious, and culturally dependent on European models—and the relatively impoverished hinterlands, with their loyalty to Protestant religiosity and American folk culture. That divide came into being long before the Revolutionary War and it's been a massive influence on our culture and politics ever since.
What makes this relevant to the present subject is that the peripheral urban enclaves are the seats of institutional power in the United States, while the rural hinterlands are an immense but usually inert source of political power not locked into institutional forms. Movements for social change that restrict their activities to the urban enclaves get nowhere, because they're confronting the Establishment on its own turf and can easily be coopted or destroyed. It's when a movement for social change makes common ground with the unorganized masses of the heartland that real change becomes a possibility. Once the movement for social change takes power, though, it necessarily focuses its attention on the urban enclaves from which institutional power is exercised. Those movements that unseat the Establishment become the Establishment, and make common cause with the remnants of the Establishment they supplant; those that are coopted by the Establishment get to the same emdpoint in a slightly quicker fashion. "Meet the new boss," the Who sang, "same as the old boss": it's a common phenomenon, in America as elsewhere.
There's more to it than that, of course. Movements for social change do, by and large, enact social change once they take power; the New Dealers of the 1930s and the Boomers of the 1980s, like their older equivalents going back to colonial times, did in fact change things, and some of those changes were both useful and enduring. If the changes ground to a halt once the former radicals settled into positions of wealth and power, and doing favors for their rich pals eventually took the place of anything more constructive, that's the ordinary rhythm of change in a democratic society—a real democracy, that is, where people are free to be as stupid and greedy as they wish at the ballot box—and can be traced straight back through history to the oldest democratic societies on record.
The rise and fall of folk culture in twentieth century American public life is simply one of many reflections of this well-rehearsed dynamic. In the 1950s and 1960s, the social and generational cohorts that now occupy the seats of power in the United States were young, still relatively idealistic, and eager for power, so they turned—as young, idealistic, power-hungry Americans have always turned—to the great reservoir of untapped political strength in the hinterlands, to counterbalance the institutional power of the peripheral urban Establishment. The Boomer generation was just a little quicker to cash in their ideals than most of its equivalents, and the resulting 180-degree turn gave those of us who didn't take the bait a bad case of mental whiplash at the time, but the logic was simple enough: having sold out to the Establishment, they no longer wanted to encourage anyone else to rebel against it.
There are, it seems to me, three points worth addressing in the light of this tale. The first is that the value of American folk culture isn't limited to its use as a virtue signal of temporarily anti-Establishment values. It still has the same values that appropriate technologists and practitioners of alternative spirituality found in it back in the day, not to mention the homely and honest values that led to its creation in the first place.  It so happens that many of the products of the Sixties and Seventies folk revival are still readily available in used book stores and the like, and those of my readers who recognize the value of such things may want to make a serious effort to find them there, and assess their suitability for the present.
A second point is that not everyone in my generation traded in their ideals for a cozy corporate lifestyle. Even today, a few of the people who embraced elements of folk culture with an eye toward its relevance in the wake of the industrial age, or who found it congenial as part of an alternative spirituality, are still at it. I've found that attitudes toward folk culture provide a useful touchstone when dealing with members of my generation, and members of younger generations may want to use this as a guide:  if you find a Boomer who still plays the mountain dulcimer, bakes his or her own bread by hand, or does any of the other common folk-culture practices of the era, you're probably talking to someone who can pass on something useful. On the other hand, if your Boomer gets brittle and dismissive at any mention of the revival of folk culture in the Sixties and Seventies, you're almost certainly in the presence of someone who sold out, and will very likely try to talk you into selling out in turn.
Finally, the cycle that brought the Boomers to power didn't go away once they were comfortably ensconced in the corporate lifestyles just mentioned. So far, radical movements among younger generations have been fixated on European models, and thus have made next to no headway in the hinterlands. That's what has kept the alt-Right, for example, from exercising the kind of influence that its cleverness and media savvy would otherwise win it: European fascism, the alt-Right's model of choice, simply doesn't have the draw on this side of the Atlantic that it does in its homeland. (William Dudley Pelley tried to launch a fascist movement here back between the wars, when fascism still had a certain cachet in this country, and it still bombed.)
We'll know that serious political change is in the offing here in the United States when young, idealistic, and power-hungry Americans figure out that the hinterlands still offer them the massive untapped source of political power they need, and embrace elements of this country's regional folk cultures as a badge of identity in the course of that discovery. I would encourage my readers to keep their ears open for the sweet and homely music of the mountain dulcimer; it's just possible that that's going to be the sound that signals the next great wave of convulsive change in American political and cultural life.