One of the many reasons I enjoy writing these weekly essays is that they give me the opportunity to look at the world in new ways. Too many writers fall into the trap of saying the same things over and over again in different words—sometimes for a while, sometimes until death taps the author on the shoulder and finally says, "Okay, enough of that." It's an easy trap to fall into, and a lucrative one. Publishers and readers alike love predictable, repetitive authors, as a look at the new fiction shelf of your local public library will demonstrate promptly enough.
That sort of repetition isn't of interest to me.  As a result, I routinely field complaints that I'm not still writing the same kind of posts I did in the early days of my blogging career: "What happened to the Archdruid we knew and loved?" (Yes, I've gotten those exact words in my inbox more than once.) The answer is quite simple, of course. Most of a decade ago I looked back over a decade of posts on peak oil and decided that I'd said pretty much all that could be said about that topic.* That's why I ventured into new territory, and will be proceeding into still newer ground in the years ahead. Endless repetition of the same clichés is convenient, and it can be profitable, but it's fatal to the creative spirit and the higher capacities of the mind.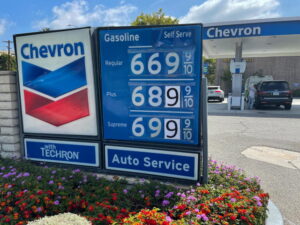 (*At that time, that is. There'll be more to say on it quite soon, not least because the price of oil has risen from $70 to $95 a barrel in the last few weeks…)
Fortunately there are always new perspectives to the predicament of industrial society, and one of those leapt up onto my desk the other day and perched there glaring at me, for all the world like an annoyed cat.  The issue in question can be summed up in a very straightforward way.  Many of us have noticed that there are quite a few things the political and economic leadership of the world's industrial nations could do to respond constructively to the rising spiral of crisis that besets us. Many of us have also noticed that these things are precisely what the political and economic leadership of the world's industrial nations will not do.
One of the people who noticed this was the historian Arnold Toynbee. Toynbee's life work, the sprawling 12-volume A Study of History, argued that civilizations fall because their leadership abandons the problem-solving function that is central to any effective elite. His take was that civilizations rise when a creative minority inspires the rest of society with a vision of constructive change so enticing, and a set of solutions for current problems so promising, that most people fall in line behind them.  As long as that minority continues to inspire the rest of society, by pushing forward its vision and coming up with effective solutions to the problems the society confronts, it remains a creative minority and the civilization keeps rising.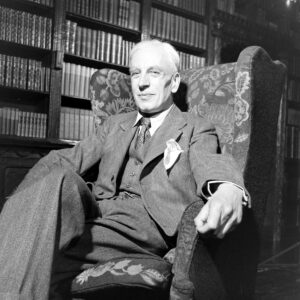 Sooner or later, however, the creative minority stops coming up with solutions to new problems. Instead, it starts insisting that the same old solutions will work just as well with new problems as they did with the old ones.  Since this isn't usually the case, the new problems go unsolved, and the former creative minority turns into a dominant minority, which can no longer inspire the masses and settles for bullying them instead. When this happens, the civilization tips over into decline, and eventually goes down under the weight of its unsolved problems.
It's a compelling analysis, not least because Toynbee shows in exhaustive detail exactly how this process played out in two dozen fallen civilizations of the past. At the same time, of course, it begs the obvious question:  why doesn't the dominant minority recognize what's happening and pull out of its death spiral?  The dominant minority will not come through the process of decline and fall with its power and privileges intact, after all. Its wealth and status depend utterly on the maintenance of complex social structures that will inevitably come apart at the seams as the society they rule unravels.
It's not as though Bill Gates, say, will keep his present status if industrial civilization goes to bits. He got his position by manipulating the complex systems of a mature civilization, and holds onto it only because those systems and his friends in powerful places sustain him. He has no gift for charismatic leadership, no skills worth anything in a dark age environment, and no resources that can't be taken from him by the first well-armed warlord who comes along. For that matter, the moment the rule of law breaks down, his own guards will no doubt cut his throat with considerable glee and take whatever goodies he's stockpiled.  Why shouldn't they?  Like the rest of today's kleptocratic elite, Gates has never learned the fundamental law of dark age society, which is that you can only earn loyalty from your subordinates by giving your loyalty to them.  It's only in a civilization, and a complex, decadent civilization at that, that someone like Gates could rise to power in the first place.
This isn't difficult to figure out. A study of history far less exhaustive than Toynbee's points it up with compelling force. Why, then, do elite classes so consistently bring about their own nemesis by refusing to solve the problems that bring their societies down?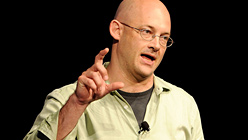 NYU professor Clay Shirky may have found the answer.
Shirky has made a name for himself over the last few decades as a proponent of crowdsourcing and internet collaboration as an alternative to bureaucratic institutions.  He's published two books on this theme, Here Comes Everybody and Cognitive Surplus, offering various arguments for his case. One of the points he made has been given a name of its own, the Shirky Principle. Like most really revolutionary ideas, it can be summed up simply enough:  "Institutions will try to preserve the problem to which they are the solution."
This is best understood by a specific example, so let's consider the weight loss industry. This is a booming field, worth billions of dollars a year in the United States alone, and it's backed by a constant drumbeat of pronouncements from government, health care officials, and the mass media. It's also a total failure by every objective measure. The more money gets poured into weight loss, the more government and corporate programs push weight control, the more people go on diets and work out at the gym and gobble weight loss medicines by the handful, the fatter Americans become.  Why?
A thought experiment gives the answer readily enough. Imagine for a moment that somebody worked out a cheap, effective treatment for obesity:  pop one pill, let's say, and your metabolism resets itself to keep you thin.  What happens?  A lucrative industry goes broke, and all its stockholders and bondholders lose money in a big way. All the businesses that make money off people who want to lose weight, and all the pundits and influencers who tell people how to exercise and diet, have to find something else to do with their time. Thus it's in their interest to fight obesity—but it's not in their interest to win.
That's why steps that could have an immediate effect on the issue never get taken. It so happens, for example, that a stunningly large number of Americans are prescribed antidepressants by their physicians. It also happens that many of the most popular antidepressants have uncontrolled weight gain—up to 5 lbs. a month, every month, as long as you take the drug—among their common side effects. Has anyone talked about correlating obesity with  antidepressant use, and explored the possibility getting people who have weight problems off antidepressants, or at least switch them to drugs that don't have that side effect?  Surely you jest.
It's also worth noting that in the United States, there's a remarkably exact negative correlation between obesity and altitude.  On average, the higher you are above sea level, the thinner you are. Just one of those weird statistical oddities? Not in a society that dumps oceans of untested chemicals into the groundwater, which flows downhill and ends up in the tap water that people drink. It would be easy enough to test tap water in different localities for chemical pollutants, and then compare the concentration of each pollutant with local rates of obesity, to figure out which pollutants are most likely to be messing up people's endocrine systems; focused studies could then settle the matter once and for all.
Of course nothing of the sort is being done, and it seems vanishingly unlikely that anything of the sort will be done. Partly that's because it would inconvenience whichever chemical companies are producing and dumping the main culprits, but it's also because the weight loss industry would suffer a devastating financial setback if any major cause of obesity were to be identified and removed. It's so much easier, and so much more lucrative, to keep on pushing remedies that don't work, and raking in the profits.
(And if, dear reader, you're about to pound your fist on the keyboard because you're sure that the cure for obesity is diet and exercise, and fat people just need to be bullied even harder than they are already, I'd encourage you to stop and think about the subject for a change. Government at all levels, the entire medical establishment, the media, and the weight loss industry have been pushing diets and exercise for more than a century now, and flinging abuse at fat people has become a national sport in the US.  Those methods have not worked. Doing more of them isn't going to work any better. In fact, the more diets and exercise have been pushed, and the more bullying has been directed at fat people, the more common obesity has become  What's that saying about doing the same thing and expecting different results?)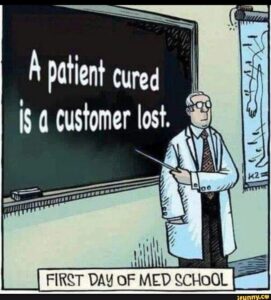 What's true of the weight loss industry is equally true of the medical industry as a whole. It's reached the point that the saying "a patient cured is a customer lost" is a bleak joke throughout American society, and for good reason.  Old-fashioned notions of curing and healing were replaced long ago by what medical professionals call the "disease management" model: in effect, keeping you sick enough that you have to keep going to the doctor, without making you so sick that you lose your job and your medical coverage. That's why so many pharmaceuticals these days have so many ghastly side effects. As computer geeks say, this is a feature, not a bug, since every time a side effect shows up, that's another visit to the doctor and another plump bill.
This sort of exploitation routinely rises to levels that would face legal charges in a less corrupt society. One friend of mine spent years suffering from asthma so serious that she had to make repeated trips to the hospital. A few years ago she read about the role that wheat allergy plays in some cases of asthma like hers, and decided to try removing wheat from her diet. Her asthma went away.  At her next appointment, she related this to her doctor, and the doctor nodded and admitted that she was familiar with the syndrome. My friend, astonished, asked, "Why didn't you tell me?" The doctor's response: "We prefer to medicate for that."
No doubt they do prefer to medicate, and they have ample financial reasons for that preference.  The fact remains that my friend had been burdened with a wholly unnecessary sickness for years, because her doctor was more interested in making money than in helping her patients. That's the Shirky Principle in a nutshell: it's so lucrative for physicians to fight disease that they are very, very careful never to win the fight.
Of course the same thing is true of institutions far removed from health care, and also of institutions in which the profit motive isn't involved. Consider the more than Byzantine labyrinth of federal, state, and city bureaucracies tasked with fighting poverty in the United States. It's been pointed out many times that the federal government could simply hire every impoverished person in the country for a decent salary and benefits, and pay them to do nothing at all, for much less than it costs to support the social welfare system. What's more, handing out cash to the poor would actually do something to lift them out of poverty, which is something that most of a century of social welfare programs has utterly failed to do.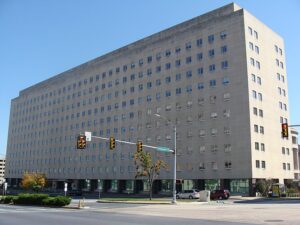 This is anything but accidental. In every bureaucracy, the first goal of each employee is to keep his or her job, pay, and benefits.  The second goal of each employee with subordinates is to increase their number, since income and status goes up according to how many flunkies you manage. If the social welfare system succeeded in ending poverty, or even reducing the number of poor people by any noticeable figure, some of the system's employees would be laid off, and these prime directives would be violated. Thus it is always in the interest of bureaucrats tasked with social welfare to be sure that the poor remain mired in their condition, and to see to it that as many more people as possible join them in poverty. Examine the way that the US welfare state treats the poor and it's hard to avoid the conclusion that keeping the poor impoverished is what the system is designed to do.
For that matter, consider the Pentagon, State Department, the CIA, and the rest of the baroque bureaucratic mess that officially has the task of protecting America's national security. Were they to succeed in making America's place in the world secure, the layoffs wouldn't just be limited to bureaucrats; gargantuan corporations that rake in profits from supplying arms to the US military and its allies would suffer drastic losses. I'd like to suggest that this may be why the entire national security apparatus of the United States seems to work so hard making sure our country has as many enemies abroad as possible.  National security, after all, is just as bad for the defense industry as good health is for the medical industry.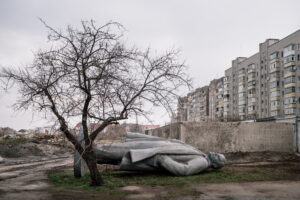 It's worthwhile in this light to remember how, once the Soviet Union went down, so much effort went into making the Middle East as hostile to American interests as possible. It's just as interesting to watch the US national security establishment working so hard right now to push Russia, China, and Iran into a military alliance hostile to us. If your business is war, maximizing war is good for business, and if your business is selling munitions, there's nothing like a nice hot proxy war to show your customers how useless their current stocks of tanks and missiles have become, so that they can be sold a whole new set at a hefty price. That this might have cataclysmic downsides further on is not something that anyone seems to worry about.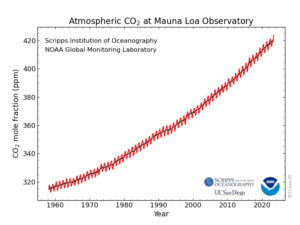 Finally, let's apply the same logic to global climate change and see how it fits. Thirty years of massive government programs and endless jeremiads in the corporate media have done precisely nothing to decrease the steady rise in the amount of carbon dioxide human beings are adding to the atmosphere. Year after year, we're told by kleptocratic godzillionaires and privileged activists that things are getting steadily worse and we all just have to try harder. It's worth considering the possibility that once again, we're watching the Shirky Principle in action.
Back in the heyday of the peak oil movement, after all, a great many independent researchers crunched the numbers on solar photovoltaic systems, large-scale windpower, biofuels, and the other green energy options, and showed that none of them could replace fossil fuels in any meaningful sense. They did due diligence on nuclear power, and showed that it's a subsidy dumpster that never pays for itself.  They also gave the hoopla about electric cars a good close study, and pointed out that it doesn't matter if the car's electric if the electricity's being generated by burning fossil fuels—and let's not even talk about the environmental costs of lithium batteries and a smorgasbord of other technologies that electric cars use.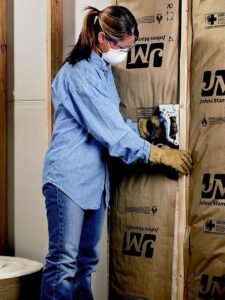 What's more, these same researchers pointed out that there are straightforward ways to cut carbon emissions sharply without plunging the world into medieval conditions. Grants and zero-interest loans, for example, could have been made available to insulate and weatherize millions of poorly insulated American homes, businesses, and factories. The dilapidated US passenger rail system could have been repaired and expanded, so that taking the train would become the easiest and most pleasant option for a huge share of short and mid-range journeys, replacing far more energy-intensive flights and freeway time. National right-to-farm legislation could have removed the regulations that keep many Americans from growing a share of their own food, sharply decreasing the amount of food that has to be transported over long distances.
These and other measures could have been done for no more money than has been poured down the ratholes of solar PV farms, gigantic wind turbines, and electric cars.  The result would have been an actual decrease in the carbon dioxide emitted by people in the US, and it also would have provided other benefits, such as creating a great many working class jobs. Such measures were discussed in great detail online and in conferences, and their benefits documented. Yet when climate change hit the big time, none of them seem to have been considered for a moment. Instead, all the funding and hype went into measures that would not, and did not, do anything to slow climate change. The Shirky Principle suggests that this is not an accident.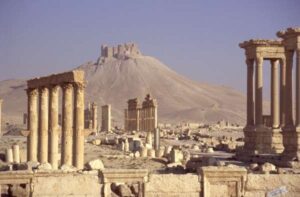 The difficulty, of course, is the one that Arnold Toynbee pointed out all those years ago:  societies that fail to solve their problems end up being dragged down by them. People who have to trudge through their days in perpetual ill health because it's profitable for big industries to keep them sick won't have the energy to deal with crisis conditions when those arrive. A society that deliberately leaves millions of people mired in hopeless poverty cannot count on the labor or loyalty of those people when push comes to shove. A nation that spends all its time creating enemies abroad, so that its national security bureaucracies and its munitions industries can keep on gobbling up an inflated share of tax money, has only itself to blame if those enemies gain the upper hand—and a world that loves to talk about climate change but avoids doing anything effective to forestall it will have to pay the costs of agricultural failure, coastal flooding, and the eventual abandonment of trillions of dollars of (literally) sunk costs.
The logic of the Shirky Principle is forceful and pervasive enough that it deserves to be included in any discussion of how civilizations fall. Again, Toynbee's assessment is worth taking seriously here. Over and over again, down through the millennia, civilizations have staggered down the long slope into ruin even when there were obvious things they could have done to turn aside from that unwelcome fate. The fact that institutions so often preserve the problems they are supposed to solve may go a long way to explain why.