Regular readers will be aware that many of last year's posts on this blog were devoted to what we might call the history of American magic, or perhaps the magical history of America—the part of the history of the United States that deals with the rise, flourishing, and (most recently) neglect and collective erasure of our own occult traditions. Most of last year's story had to do with the arrival of occult teachings from Europe and Africa in colonial times, their development in the years that followed, the emergence of the first distinctive American occult traditions in the middle years of the nineteenth century, and the rise of Theosophy, the catalyst that set the golden age of American magic in motion.
Before we proceed to talk about the golden age in question, however, certain other aspects of our cultural history that also fed into that extraordinary era have to be brought into the picture. Back in December we talked about one of those—the immense role that secret societies played in American culture from colonial times to the middle years of the twentieth century. There's another factor that has to be taken into account, however, and that's the role of mass literacy and the popular press in setting the stage for the glory years of American occultism. An earlier post talked about the immense role that those factors played in the transmission of European occult teachings to the American colonies, but that was just the beginning of the story.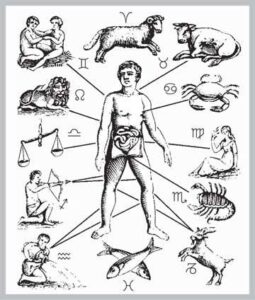 As in colonial times, almanacs provided nineteenth-century America with a major source of basic occult knowledge. All almanacs in those days tracked the movement of the moon through the signs of the zodiac, and included a selection of other scraps of basic astrological instruction, almost always including a melothesia—that's the technical name for the little image of a man with the different parts of his body assigned to the signs of the zodiac.  Armed with nothing but a cheap, locally produced almanac, nineteenth-century American could identify astrologically favorable times for planting, harvesting, and most of the other routine activities of daily life—and a great many of them did just that. (A great many of them still do; local almanacs with all the old features are still readily available in many parts of this country, and planting by the Moon remains a widespread and lively folk tradition.)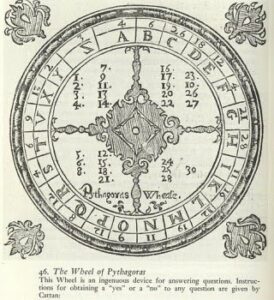 Many nineteenth-century almanacs also had other items of occult interest. The Wheel of Pythagoras and its many near-equivalents, for example, could be found tolerably often in them. The Wheel of Pythagoras?  Why, yes—one of the classic systems of divination in medieval and Renaissance society, almost forgotten now, it told you whether something would turn out fortunate or unfortunate, and if it would happen quickly or not. You concentrate on your question, then choose the first number you think of at random, and add to it the number on the wheel that corresponds to the first letter of your first name. Add those together. If the result is less than 30, look it up in the middle of the wheel; if not, subtract 30 from it as many times as you need until the remainder is less than 30, and look up the result.  (There were more complex versions with additional numbers to add in, to keep you from half-consciously gaming the results, but the principle was the same in each case.)  If the number that results is above the midline, the answer is that the omens are favorable; if below, unfavorable; if on the left, the good or bad results will come quickly; if on the right, slowly.
By the early nineteenth century, however, the United States was prosperous and literate enough that the market for occult knowledge could no longer be satisfied by the bits and pieces that could be found in almanacs. Since the law of supply and demand seems to be more strictly enforced here than elsewhere, that market promptly got what it wanted—and this is where we talk about the redoubtable Johann Georg Hohman.
Hohman was a German immigrant to the United States; he and his wife Anna, along with their son Philip, crossed the Atlantic in 1802, landing in Philadelphia. The part of Europe we call Germany today was in those days a gallimaufry of more than a hundred independent countries, and no one has yet been able to figure out which of them the Hohmans came from. Johann Georg had apparently apprenticed as a printer and calligrapher back in the old country; he paid off the cost of his family's emigration by calligraphing ornate birth certificates, which were in fashion in German-speaking families just then, and he printed his first occult project the year he landed—a talisman called a Himmelsbrief which protected homes from fire and lightning.
In 1813 he printed his first book of magical spells, Der Freund in der Noth (The Friend in Need), and in 1820 he published his magnum opus, Der lang verborgene Freund (The Long Lost Friend), a collection of spells, charms, home remedies, and household hints. Care for a good recipe for cheap homebrewed beer?  How about a way to kill bedbugs?  Or a treatment for colic in horses?  Hohman's got you covered—but he also has an ample supply of magical spells for a dizzying array of purposes.  Here's a sample incantation from The Long Lost Friend: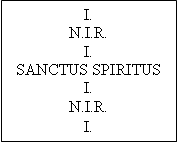 129. Against evil spirits and all kinds of witchcraft.
Write the diagram to the left on a piece of white paper, with the following words beneath it: "All this be guarded, here in time, and there in eternity, Amen." Carry it on your person.
This is a good example of Hohman's magic. It's Christian magic, from the robust German magical tradition that also helped inspire Johannes Kelpius, the German pietist mystic whose voyage to America provided the theme for the very first post in this series. It's positive magic—Hohman wasn't interested in teaching people how to fling curses at each other; he was smarter than that, and so he focused on spells for blessing, healing, and the like. It's also magic that anyone can do. Hohman wasn't interested in the sort of magic that requires years of training and practice; his books sold to ordinary Pennsylvanian men and women who wanted to ward off hostile magic and call down the occasional blessing on themselves, their families, and their households. Those were among the things that made The Long Lost Friend the most famous (and the most endlessly reprinted) of all America's homegrown magical books.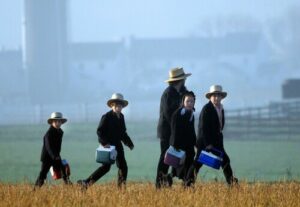 As the titles suggest, Hohman's books were originally published in German.  There were a great many German immigrants in Pennsylvania, western Maryland, and eastern Ohio in those days, the ancestors of today's Pennsylvania Dutch (i.e, Deutsch), and German language newspapers, magazines, and books sold well in those areas; it was one of many ethnic communities in the United States in those days, and like most of the others, then and now, it served as a vehicle for ideas from other cultures to adapt to American conditions before heading out into the nation as a whole.  It took a little while for Hohman's work to find a foothold outside the German-American community, but that happened in due time; the first English translation of The Long Lost Friend appeared in 1846, and as far as I know, it's never been out of print since then. (There's a very good edition available nowadays, for example, edited and annotated by occult scholar Daniel Harms; it's the one I use).
It's not accidental that The Long Lost Friend first found its way into English when it did, of course. As we've seen, the 1840s were the seedtime of American occultism, the years when Andrew Jackson Davis hit the big time, when Phineas P. Quimby was practicing Mesmerism and beginning to think a certain New Thought, when Spiritualism leapt out of a basement in upstate New York to shake the foundations of American religion, and when P.B. Randolph abandoned his barbershop to find his true calling as an American original and one of the most innovative occult thinkers of the age. The American people were ready for occultism; a bumper crop of occult traditions were ready for the American people; and printers across the nation bought ink by the barrel and paper by the wagonload to help these two find each other.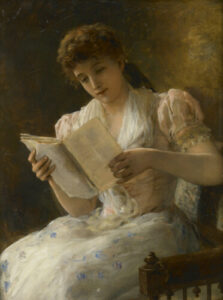 One of the major venues for the resulting torrent of popular literature may surprise those of my readers who've bought into the standard (and frankly propagandistic) notions of what Victorian womanhood amounted to.  From the 1840s on, as literacy became effectively universal among free women of every ethnicity and social class in America, self-help literature for women became a booming market. This wasn't limited to books on the various domestic crafts and the jobs then open to women, although those found a ready market. Books on reproductive health—usually with titles on the order of What Every Young Woman Should Know—were big sellers, and they went into quite a bit more detail about the mechanics of sex, pregnancy and childbirth than modern stereotypes about Victorian America suggest. (Remember that the United States was still predominantly a rural society in the nineteenth century, and if you grow up within sight of a barnyard there's no way you're going to be ignorant about the facts of life.)
But there were many other subjects for bestselling women's books in that era, and one of those subject was divination. Look on sites that archive nineteenth-century popular literature and you can find scores of volumes on fortune telling, as it was then usually called, and hundreds of others that include a chapter on the subject. (At least one of those books about what every young woman should know, for example, has a chapter on divination.) Very often methods of fortune telling were presented as parlor games, suitable for groups of women or of both sexes depending on the type. Imagine, if you will, young Laura Ingalls of Little House on the Prairie fame sitting with her family in the parlor of their house on a winter night.  The last chores are done and the day is winding to a pleasant close. What are they doing to while away the time?  Quite possibly, they're telling each others' fortunes.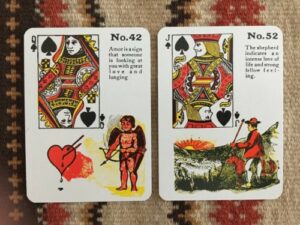 Methods of divination in nineteenth century America included a substantial range of methods. Cartomancy (divination by cards) was always popular, and nearly always relied on the usual 52-card playing deck—the 78-card tarot deck hadn't yet been reinvented as the be-all and end-all of cartomancy.  There were many different spreads and methods of interpretation, some of them of impressive complexity and subtlety. There were also a few decks created specifically for divinatory purposes, of which the Gypsy Witch deck—based on the ordinary playing card deck, but with each card assigned its own name and image as well—is as far as I know the sole survivor today. (Yes, I used that deck as a stage property in my epic fantasy with tentacles, The Weird of Hali, with that heritage very much in mind.)
Cartomancy, however, was only the first course in the banquet of divination you could get in from nineteenth century volumes intended mostly for the women's market. Astrology in the full, highly mathematical sense of the word wasn't among them, precisely because mathematics in the days before personal computers required some fairly substantial mathematical chops—too much, certainly, to make it a pleasant entertainment for young ladies. Various simplified forms of astrology that didn't require mathematics, however, were very often to be found in such books.  Those have a long pedigree—you can find versions of folk astrology, as this approach has sometimes been called, in medieval manuscripts.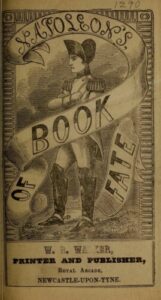 Geomancy, one of the classic systems of medieval and Renaissance divination, appeared in some sources. Far more popular was a variant of geomancy called Napoleon's Book of Fate (or some not wholly dissimilar label—it had a lot of variants). Its connection to the French emperor was as far as I know sheer marketing, but it was omnipresent in nineteenth-century American divinatory culture; any of several methods were used to generate a random five-digit binary number, and then the reader chose from a list of standard questions, turned to the relevant page, and found the answer to the question spelled out. There were scores if not hundreds of similar systems, in which dice or cards or some other randomizing device were used to select from a set of prepared answers; none of them were quite as famous as the one assigned to Napoleon, but it was a rare volume of divination methods during the period that didn't have at least one of them.
Then there was palmistry, the art of reading the future from the lines on the inquirer's palms.  Like geomancy, palmistry (also known as chiromancy) was much practiced in the Middle Ages and Renaissance, and it was transmitted without interruption to the compilers of nineteenth-century divination textbooks.  Metoscopy (also known as physiognomy), the art of reading the future from the shape of the inquirer's face, was less popular but showed up in some sources, as did prognostication based on the location, size, and color of moles on the inquirer's skin.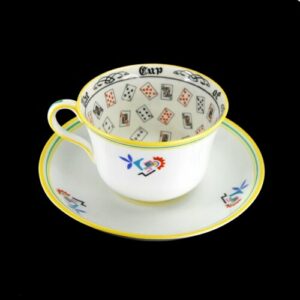 Another popular art found in many of these books was the art of tasseography, which foretold the future using tea leaves or coffee grounds in a cup.  Standard methods of making both beverages in the nineteenth century left a small amount of solid detritus at the bottom of each cup, and each pattern made by the leaves or grounds could be interpreted by those who knew how. Obedient to the law of supply and demand mentioned earlier, the china industry in the United States proceeded to manufacture tea and coffee cups specifically intended for tasseographic use, with little diagrams inside the cup helping the reader to interpret each stray leaf.
Dream interpretation was another staple of the American divinatory literature. Long before Freud proclaimed dreams as the royal road to the unconscious mind, diviners had been using dreams as a way to foretell the future, and an extensive body of dream lore dating back to ancient Greece was duly retailed in the books we're discussing. (If you dreamed about someone blowing a bugle, for example, you were told to expect a sudden happy turn of events; if you dreamed about sweeping, it was important for you to avoid speculative investments, and so on.)  Some other methods found a place in the books now and again—for example, I learned the fine art of domino divination from one of the last of these volumes—but the methods just listed formed the standard divinatory curriculum of the era.
It's important here to reiterate that these arts, and the books that taught them, were primarily marketed to young women as parlor games and pleasant entertainments for rainy afternoons.  They were not presented as a systematic course of training in the divinatory arts and sciences. In effect, however, that's what they became.  By the time the Theosophical Society was founded in 1875, tens of millions of American women, and a smaller but still very large number of American men, had grown up practicing half a dozen different methods of divination as a matter of course, and so when they encountered the magical lodges and occult correspondence courses of the golden age of American occultism, they already had some exposure to basic practical occultism. I've come to believe that this played an important role in preparing the way for the explosion of occultism that followed.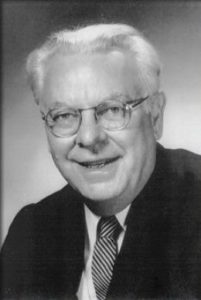 Like most of traditional American occultism, in turn, the entire body of lore that was passed on in the books we've been discussing fell into eclipse in the last decades of the twentieth century. I own a copy of one of the last books of that kind ever published in this country, The Complete Illustrated Book of the Psychic Sciences by Walter B. Gibson and Litzka R. Gibson, published in 1966.  Yes, that Walter Gibson, the pulp-fiction author most famous for "The Shadow;" he was a skilled and popular stage magician whose volumes introduced countless beginning stage magicians to the rudiments of their art, and also, to the abiding annoyance of today's rationalist pseudoskeptics, a capable occultist.  He and his wife Litzka wrote several books on occult subjects, but this is as far as I know the most complete. Its range of subjects is phenomenal even for books of its type: cartomancy, dice divination, domino divination, a simplified form of astrology, palmistry, numerology, dream interpretation, tea leaf reading, divination by moles, all the classics are there, along with a few really exotic methods such as phrenology (reading personality from the shape of the skull) and dowsing, and nods to then-current fads such as ESP.
The systematic erasure of traditional American occultism from our popular culture and our collective memory broke the chain of transmission that kept such practices in common use. Starting in the 1960s, sun-sign astrology and tarot cards became fashionable and the whole panoply of older methods went down an Orwellian memory hole. Fortunately, they're still available, in the same books that older generations used to learn them.  Anyone who goes looking for volumes on divination in the various online archives of out-of-copyright publications (Project Gutenberg, Archive.org, Google Books, and the like) will find a bumper crop of them—a gathering of long lost friends, so to speak, who will be more than happy to share what they have to teach with anyone who is interested in learning.