Over the last week or so I've been spending a certain amount of time reviewing some of the things I studied and practiced and wrote about in years long gone. Partly that's something I do from time to time, but I also had another excuse. Next year Aeon Books will be bringing out two volumes of my work, The City of Hermes and A Magical Education; the first contains the essays and articles I wrote for a variety of magazines during my first not-quite-decade of writing on magic, from 1993 to 2000, and the second includes all of the most popular talks I used to give during the following decade, when I put in my time on the Pagan and occult conference circuit.
The same press has already brought out new and improved editions of my first two published books, Paths of Wisdom and Circles of Power, along with my translation of Gerard Thibault's Renaissance Hermetic fencing manual, The Academy of the Sword, and a hardback edition of The Celtic Golden Dawn. In the year or so ahead they'll be bringing out new editions of Earth Divination, Earth Magic and The Sacred Geometry Oracle book and card set, along with thoroughly revised and expanded versions of Inside a Magical Lodge and my near-future military-political novel Twilight's Last Gleaming. All in all, reviewing the books and assembling the anthologies has been quite the trip down Memory Lane, and it's got me thinking about the lively historical drama in which, as a writer and teacher of occultism, I play a bit part.
Broadly speaking, there are three standard narratives about the history of magic in America, and all three of them are utter hogwash. The first, and by far the most widely promoted these days, is the triumphalist mythology of the Enlightenment. Beginning in the middle years of the 17th century, this narrative claims, a handful of geniuses finally got around to noticing that everything everyone else had always believed about the universe was just plain silly. They realized how obvious it is that the universe is made of matter, energy, and nothing else, that gods don't exist, magic can't work, and when you die, you rot and that's it. Of course these geniuses had to fight the entrenched forces of ignorance and superstition, but since they were so obviously right, they always won in the end.  And the people who study and practice magic today?  They're among the last sad holdouts of the forces of ignorance and superstition, and if we just lobby for more science education and keep on denouncing alternative healing at the top of our lungs, someday soon we will all eat strawberries and cream in a utopia of pure reason.
The second of these narratives, which has more than a little similarity to the first, is the one that used to be standard among followers of America's mainstream religious traditions. Here the sudden sunburst of light and truth that broke through the darkness of ignorance and superstition happened a bit earlier—to be exact, in Judea right around 33 CE—and the revelation in question was of course quite different, involving things like monotheism and salvation through divine grace rather than reason and the scientific method. What's more, ignorance and superstition have rather more firepower on their side, courtesy of Satan and his minions, so the battle against them has taken considerably more time. Nonetheless, in eras when the Christian mainstream is feeling confident, the people who study and practice magic are assigned to the same category of last sad holdouts of the forces of ignorance and superstition. When the rhetoric shifts, and the sad holdouts start being portrayed as the threatening advance guard of the legions of Antichrist, you know that the confidence of the Christian mainstream is getting seriously frayed at the edges.
Then there's the third narrative, which is the one that appears embarrassingly often among people who practice magic, especially but not only in popular magico-religious movements such as Wicca. This is the claim that whatever specific kind of magic they happen to practice has been around in exactly the same form since the upper Devonian, preserved in secret by unbroken lineages of identical third-degree grandmothers churned out by some granny factory in the New Forest, who never had an original thought in their lives and passed down the teachings exactly as they received them. Thus the Old Ways survived long ages of persecution and bigotry in a state of perfect mummification, so that they could pop out of hiding on cue in our own time, and turn out to be perfectly attuned to the latest trends in avant-garde culture.
You'll notice that this third narrative is simply what happens when you take one of the first two and swap the value judgments, so that primitive superstition and ignorance becomes primeval wisdom and knowledge and the onward march of truth morphs into the onward march of bigotry and intolerance. That strategy of reversal is extremely common on the fringes of every society, and for good reason:  it's a lot more difficult to get people to think clearly about the narratives that define their lifes than it is to tell them to keep the same narrative and just start rooting for the other team. The downside of this strategy is simply that if you keep the old narrative, you're stuck with whatever bad habits of thought it embodies.
And the bad habit of thought central to the narratives we're discussing? It's the notion that magic has no history of its own—that it's a timeless, passive presence, just sitting there waiting for scientists to debunk it, or missionaries to convert everyone away from it, or third-degree grannies to pass it on to somebody with marketing skills and a publishing contract.
This sort of thinking is extremely common, and not just where magic is concerned. It reflects the supreme delusion of modern industrial culture, the notion that the cosmos divides neatly into two unequal halves: a small group of smart, creative, dynamic human beings who make things happen, and everything and everyone else, which just sits there, passive and inert, waiting for somebody in the first group to do something with it. Stated thus baldly, it sounds preposterous—and of course it is—but watch the rising tide of mishaps that beset industrial society these days and you can see the sort of thinking I've described behind nearly every one.
"When we act, we create our own reality," neoconservative guru Karl Rove is credited as saying to reporter Ron Suskind. "We're history's actors, and you, all of you, will be left to just study what we do." That's an unusually forthright expression of the stupendous idiocy I'm discussing. You'll notice, among other things, that Rove was dead wrong, and the merry crew of "history's actors" that gathered around George W. Bush failed completely in their goal of remaking the Middle East along American lines.  Quite the contrary, they succeeded mostly in helping the Islamic Republic of Iran pursue its geopolitical ambitions, and teaching two more generations of Americans what the word "quagmire" means.
The same principle applies more broadly. We dump pesticides with blithe abandon on our crops and flower gardens, and then look on with baffled rage as the insects we're trying to kill evolve resistance to our poisons while insects we need drop dead in heaps. We leap into SUVs to go six blocks to the grocery store and then get upset when our tires sink into the asphalt, courtesy of the anthropogenic climate change our tailpipes are helping to create. We embrace economic policies that condemn millions of people in the working classes to poverty and misery, and then can't understand why they vote for Brexit and Donald Trump. It's the same delusion in each case—the delusion that insists that the universe is only allowed to do what we tell it.
The way out of that mental trap starts with the recognition that the rest of the universe is just as capable of change and adaptation as we are:  that it has its own dynamism, its own momentum, and its own history. The insects we try to poison aren't just a passive presence munching on our food crops; they got where they are by a long process of adaptation and survival, which has prepped them to respond to our poisons with a burst of evolutionary radiation. It's not just an elite subset of human beings who are history's actors, in other words—so are insects, atmospheric cycles, and working-class "deplorables," and if the self-styled makers of history ignore that fact, they're pretty much guaranteed to end up not acting but being acted on, to their great (and sometimes lethal) discomfiture.
With regard to magic, I'd thus like to suggest a different narrative, one that has the advantage of being a lot closer to what actually seems to have happened. In that narrative, magic is a normal part of every human society, as natural as art and music and medicine and literature. Like these other things, it develops over time, draws on the intellectual and cultural currents of the society in which it thrives, faces new challenges as well as familiar ones in every generation, spins off competing schools that contend with one another and eventually enrich the broader tradition by their conflict. In such a narrative, magic has its own history, just as art and music and medicine and literature do; what's more, the magic practiced in any country, like the art and music and medicine and literature practiced in any country, will be at least a little different—and in many case, quite dramatically different—from the magic practiced anywhere else.
When we talk about magic, in other words, we're not discussing a vague inchoate mass of ignorance and superstition, or for that matter a timeless wisdom passed down unchanged from age to age.  It's a constantly changing body of theory and practice that shapes, and is shaped by, the culture in which it exists. At its best, it offers useful correctives to some of the follies of that culture; at its worst, it reinforces those follies in disastrous ways.
That narrative, in turn, leads me back to the things I studied and practiced earlier in my career as an occultist, and to one of them in particular, a collection of photocopied lessons now residing in a hanging folder in the file cabinet next to the desk where I'm writing this.
The lessons in question were the work of Burks L. Hamner, a successful businessman in Tampa, Florida in the first half of the last century. At first glance Hamner looks like a real-life model for George Babbitt, the glad-handing, money-grubbing protagonist of a once-famous Sinclair Lewis novel. Like many people of his time, though, he was caught up in one of the great waves of the history of American occultism, and was a passionate student of New Thought.
New Thought? Very broadly, that's the bundle of joy that resulted when the philosophy of the Transcendentalists and the avant-garde occult movement launched by Franz Anton Mesmer tumbled into bed one night while giddily drunk on the ebullient optimism of the expanding American republic. Think of it as a mighty backlash against the dour predestinationism of Calvinist New England and you've got the basic flavor of the movement. The founders of New Thought discovered, well before scientific psychologists got around to noticing this, that thoughts and feelings have a huge impact on our lives—that the mind doesn't just reflect the world around it, but actively shapes our experience of the world, our physical and emotional health, our relationships with other people, and our chances of achieving our goals in life.
America being America, the New Thought movement didn't give rise to one big religious organization, though Mary Baker Eddy tried her level best to turn her Christian Science denomination into the One True Church of New Thought, and a couple of other denominations rose out of the movement and established themselves on a fairly large scale. Rather, it took the form of scores of churches, societies, correspondence schools, and initiatory orders, all of them ringing their own changes on the basic New Thought philosophy and toolkit. Very broadly, these competing schools sorted themselves out along an axis defined by the scale of the claims made for New Thought: on one end, those that presented New Thought as a set of mildly useful notions whose effect was strictly constrained by the scientific beliefs of the time; on the other, those that insisted that New Thought was the omnipotent secret of the ages, and could conquer every source of human misery including old age and death; in the middle, every conceivable point of view between these two extremes.
Burks L. Hamner was in the middle. As a successful entrepreneur in a freewheeling age, he saw just how powerfully attitudes and assumptions affected the success or failure of business owners and employees alike. He was never among the people at the delusional end of New Thought, who insisted that all you had to do is practice affirmations and the world would drop everything you wanted into your lap; his recipe for a happy, healthy, and successful life combined New Thought methods with changes in habits and attitudes, close attention to the effects of your actions on others, and plenty of good old-fashioned hard work.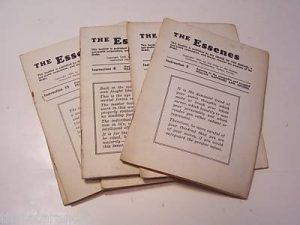 That's what went into his correspondence school, the Order of Essenes, which he opened in Tampa in 1938. It was never one of the big players in the New Thought field, because it didn't advertise, and it offered its courses free of charge to new students who were recommended by existing students. Funded solely by donations, it nonetheless kept going for many decades; after Hamner's death in 1946, it was operated by his daughter Suzie Hamner Davis, and finally seems to have shut down sometime in the early 1970s.
That's the course I have in my file cabinet. I got it because for a while I was active in another Essene group, the Modern Order of Essenes, which was one of the gallimaufry of little occult orders connected with the Ancient Order of Druids in America. One of the last members of Hamner's Order of Essenes sent it to us when she was moving to a retirement home. I scanned the whole course and sent it on to the head of the MOE, who for all I know still has it—and then I printed out a copy of the course, and worked my way through the whole thing. I did such things fairly often in those days. (I still do the same thing today; I'm currently on Lesson 6 of the correspondence course offered by one of the smaller Rosicrucian orders active in the same era, and am enjoying the experience. If you're an old-fashioned occultist, you do such things.)
That's the course, in turn, that I'm making available to students again on the same basis—free of charge, supported only by donations—at www.orderofessenes.org.
Before you all go running off to that site to download Lesson 1, though, a word of warning is in order. Do you recall what I said earlier about the primary delusion of modern industrial society, the belief that the universe is only allowed to do what we tell it? And do you recall what I said about how magical traditions can reinforce the bad habits of a society, sometimes in disastrous ways? That applies doubled, tripled, and in spades to New Thought.
Most New Thought authors, Burks L. Hamner very much included, put a lot of effort into convincing people that they really could change their lives and obtain health, happiness, and success. They used every rhetorical trick in the book to get that point across, and they were right to do so, since the audience they hoped to reach consisted of people who had become convinced that they couldn't succeed and had no power to better their lives.  For such people, being taught that they had the power of the Infinite behind them was a salutary shock, and in many cases had immensely positive effects on people's lives.
The reverse happened, though, when New Thought became popular with people who already had a well-developed sense of entitlement, and were convinced that the universe was supposed to do what they told it to do. Such people tended to be drawn to New Thought; it's always pleasant to be told what you already believe, especially when what you already believe is that you can have whatever you want. For them, New Thought was an intoxicating drug, and it led to the same kind of self-inflicted failures that New Age thinking so often causes among the overly entitled today.  If you knew any of the people who plunged into real estate speculation in the years immediately before the 2008 crash, convinced that the power of positive thinking would infallibly make them millionaires, you know what I'm talking about; if you were paying attention to the role that the obsession with positive thinking played in leading Hillary Clinton's 2016 presidential campaign to a wholly preventable defeat—well, I rest my case.
Barbara Ehrenreich a few years back wrote an excellent book titled Bright-Sided, which is all about the immensely destructive influence that New Thought has had on some aspects of American society. Mitch Horowitz has written an equally excellent book called One Good Idea about the immensely positive influence that New Thought has had on other aspects of American society. What's more, both authors are right. It's only in the fantasies of the overly simplistic that everything is either good or bad, and when it's good it's all good and when it's bad it's all bad. Just as a medicine that raises blood pressure can be a lifesaver for people with low blood pressure, but can kill people whose blood pressure is already high, New Thought has a great deal to offer people who believe they can't do anything about their unsatisfactory lives, but should be avoided by those who already think that the universe owes them a favor.
Let me be even more precise here. If you believe, dear reader, that you deserve love and happiness and a nice new car just because you're you, then for the love of God stay away from the Order of Essenes and from New Thought teachings generally. They will mess you over. If, on the other hand, you believe that your life is stuck on a dead-end street because of things you can't do anything about, or that you just don't have what it takes to achieve health, happiness, and success, then Mr. Hamner here has a few extremely helpful suggestions for you.
*****************
On another topic of interest to readers of this blog, I'm pleased to announce that Founders House, the publisher of the science fiction anthologies launched by contests on my blogs, is hosting a Kickstarter campaign to raise funds for the forthcoming Old Solar System anthology, Vintage Worlds I. There are some great prizes for contributors; check it out here.